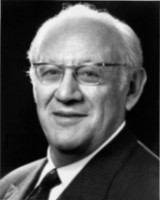 Dr. Arthur M. Sackler
1913 – 1987
Arthur M. Sackler was born in Brooklyn, New York, and received his arts, sciences and humanities education from New York University. Best known as an art collector, he was a physician, scientist and connoisseur, who endowed institutions of learning and culture throughout the world.
To be a doctor was his vocation. After completing his internship and service as house physician at Lincoln Hospital in New York City, he became a resident in psychiatry at Creedmoor State Hospital. There, in the 1940s, he started a research laboratory, and later established his own research laboratory, which resulted in 140 published papers in neuroendocrinology, psychiatry and experimental medicine. He considered his research into the metabolic basis of schizophrenia his most significant contribution to science.
As a generous benefactor to medicine and science, Dr. Sackler contributed to numerous scientific institutions and founded the following: the Sackler School of Medicine established in 1972 at Tel Aviv University; the Sackler Institute of Graduate Biomedical Science at New York University founded in 1980; the Arthur M. Sackler Science Center dedicated in 1985 at Clark University; the Sackler School of Graduate Biomedical Sciences, established 1980, and the Arthur M. Sackler Center for Health Communications, established in 1986, both at Tufts University.
While his fundamental desire was to be a healer, he found inspiration and relaxation in the art world, where his pre-eminence is already legendary. The range of his collections include American, European, Pre-Columbian, Native American, Ancient Near Eastern and Asian art. He collected thousands of objects, many of them masterpieces of museum quality. His interest in art is reflected in his philanthropy; he established galleries at the Metropolitan Museum of Art and Princeton University, a museum at Harvard University, and the Arthur M. Sackler Gallery of Asian Art in Washington, DC. True to his oft-stated determination to create bridges between peoples, he offered to build a teaching museum in China, which his widow, Jillian, made possible after his death, and in 1993 opened the Arthur M. Sackler Museum of Art and Archaeology at Peking University in Beijing.
He overcame a difficult start in life to achieve the American Dream. His parents lost their money in the Depression and he started working at age 13 to support them and his two younger brothers, and put himself and his siblings through school and medical school. By 1940 he was managing director of Schering Corp., subsequently bought the McAdams Co., where he initiated fact-based medical advertising, then purchased the pharmaceutical company Purdue Frederick, and started all the other family businesses. He was a pioneer in the communication of medical news, serving as editor of the Journal of Clinical and Experimental Psychobiology from 1950 to 1962, and in 1960 founding Medical Tribune, the first medical newspaper sent directly to doctors, which reached over one million readers in 20 countries.
Dr. Sackler saw the relationship between the arts and sciences and the humanities as inextricably linked. In a speech given at the State University of New York at Stony Brook in 1986, entitled "Some reflections on the arts, sciences and humanities," he observed: "Communication is, for me, the primum movens of all culture. In the arts… I find the emotional component most moving. In science, it is the intellectual content. Both are deeply interlinked in the humanities." His widow, family and foundations continue the mission to aid the arts, sciences and humanities begun by Dr. Arthur M. Sackler.
---
---
DISCLAIMER – STATEMENT BY JILLIAN SACKLER
February 16, 2018
Much of what's been written in recent months about my late husband, Dr. Arthur M. Sackler, is utterly false. Arthur died nearly a decade before Purdue Pharma – owned by the families of Mortimer and Raymond Sackler (his brothers) — developed and marketed OxyContin. At the time of his death in 1987, Arthur was lauded for his contributions to medical research, medical communications and museums. He was a renowned art collector and connoisseur, and because of this, we have the Arthur M. Sacker Gallery of Chinese Stone Sculpture at The Met, the Arthur M. Sackler Gallery at the Smithsonian, the Arthur M. Sackler Museum at Harvard, the Jillian and Arthur M. Sackler Wing of Galleries at the Royal Academy and the Arthur M. Sackler Museum of Art and Archaeology and the Jillian Sackler Sculpture Garden at Peking University. None of the charitable donations made by Arthur prior to his death, nor that I made on his behalf after his death, were funded by the production, distribution or sale of OxyContin or other revenue from Purdue Pharma. Period.
Further, as a physician and medical scientist, Arthur was moved by a curiosity and desire to improve lives with new therapies. He made a substantial part of his fortune over 50 years in medical research, medical advertising and trade publications. His philanthropy in medicine extended to the Arthur M. Sackler Center for Health Communications at Tufts University and the Arthur M. Sackler Sciences Center at Clark University.
All these gifts, made in the 1970s and 80s, were made independently of his brothers and their families. Thus, for anyone to assert that institutions received "tainted" gifts from Arthur is ludicrous.
The media is accusing Arthur of pioneering deceptive marketing techniques. This is another lie. He had complete integrity.
Passing judgment on Arthur's life's work through the lens of the opioid crisis some 30 years after his death is a gross injustice. It denies the many important contributions he made working to improve world health and to build cultural bridges between peoples.
Featured Beijing Exhibits