INTERSECTION: International Art and Culture
---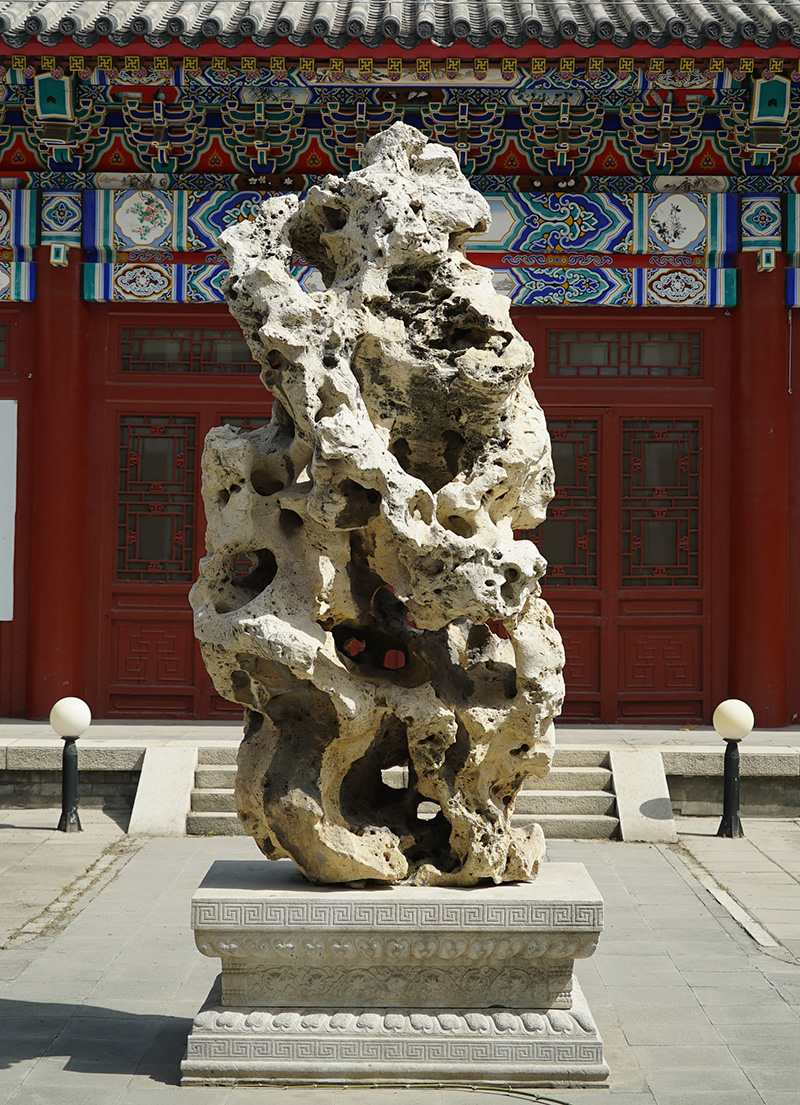 Intersection: International Art and Culture
May 27 to August 27, 2018
We are pleased to announce that in celebration of the 25th Anniversary of Arthur M. Sackler Museum of Art and Archaeology at Peking University and the 120th Anniversary of Peking University, the Sackler Museum in Beijing is having two concurrent exhibitions, Masterpieces from the School of Archaeology Collection and Intersection: International Art & Culture part of Dame Jillian Sackler International Artists Exhibition Program.
Dame Jillian Sackler proceeded with the agreed proposal made by her husband to build a state-of-the-art teaching Museum for China. The Museum that bears his name opened on May 27, 1993. It has become what Dr. Sackler envisioned, a place to educate the best students in Museology, Conservation, Collections Management and Exhibition Design. The graduate students that have passed through this institution are now working in museums all over China and around the world. It has created a group of colleagues that share a common interest and cooperate when mounting major exhibitions around China.
So it is with great pleasure that we celebrate the 25th Anniversary of the Sackler Museum, a unique gateway to China and the world.
Five years ago we started the Dame Jillian Sackler International Artists Exhibition Program to showcase Contemporary artists from around the world, and as a thank you for Dame Jillian's donation to Peking University it was named after her. Each exhibition in the past dealt with a variety of subjects, including: war, slavery, human rights, enlightenment, deforestation and the environment. The exhibitions were very well received and traveled and will travel to other museums.
For the 25th Anniversary of the Museum we decided to have a group show with the artists that had already exhibited at the Museum and a number of artists from China and abroad who are creating work that stimulates the imagination of the viewer and who represent the culture at large.
Intersection: International Art & Culture is about humanity and human interaction: how artists from diverse backgrounds influence one another and the viewer, creating a better understanding amongst world cultures. The exhibition will include video installations, photography, paintings, sculptures and drawings by the following artists:
Bao Pei
Cui Xiuwen
E.V. Day
Anindita Dutta
Mark Fox
Anita Glesta
Patricia Guzman
Nicolas Herrera
Maryam Najd
Frieder Nake
Toni Scott
Tai Xiangzhou
Xu Bing
Zhan Wang
Each artist will show a representative work. Bao Pei and Tai Xiangzhou will present abstract works entitled "Space Time" and "Celestial – Placeless and Timeless" respectively; Cui Xiuwen will present a never-before-seen work from her new series about the Buddha; E.V. Day will showcase a "Waterlily" work, complementing the water lilies found in lakes around China but more specifically the lakes that surround the Sackler Museum; Anindita Dutta will present a large photograph entitled "Flight" from her Indian butterfly performance work; Mark Fox will present a cloud-like sculpture made out of randomly arranged cut-out lines of texts. From afar, the viewer sees the form; at closer range the use of texts is revealed, although it is impossible to read them, their meaning or origin; Anita Glesta will present "Pulse," a video installation about the heart; Patricia Guzman will showcase a new watercolor work from her series "Roots," which deals with the human condition of the native population of Mexico; Nicolas Herrera is presenting "Somos Uno," or "We are One," a sculpture representing the different races and his mythical figures in one composition; Maryam Najd will present a new work about the refugees fleeing to Europe; Frieder Nake, a pioneer "Computer Artist" who participated in the renowned "Cybernetic Serendipity" exhibition in 1968 (which is celebrating its 50th anniversary this year), will showcase "12/7/65 No. 2, 1965," a computer-generated automatic drawing. It is the first time that an artist in this genre of work is participating in a general art exhibition; Toni Scott will participate with "Circle and Cycle of Life," representing her Native American heritage; Xu Bing and Zhang Wang will present new works for the exhibition. Xu's work is from his Background Stories series. To fully appreciate the series, the viewer must see the beautiful traditional painting at the front of the work, then proceed to the back to see how it was created. Zhan is presenting a new stainless-steel rock, created using sheets of stainless steel hammered on to the surface of a rock. After welding and buffering, the rock becomes shiny and reflective, like a mirror.
Peking University's Achievements in Archaeological Teaching and Research exhibition, "Uncovering Truth", will be on display at the Sackler Museum at the same time, complementing the artworks by the invited Contemporary artists.
The Opening on May 27, 2018 will be followed by a two-day Symposium "Intersection: International Art & Culture" with keynote speech by Noel Lateef, President of the US Foreign Policy Association, and a lecture by Xu Bing, the world-renowned artist.
The Dame Jillian Sackler International Artists Exhibition Program was established to bring talented international artists to the Sackler Museum at Beida. Artwork for this program must have cultural value in order to create an open dialogue between the work and the viewer. The aim of this program is to create cross-cultural understanding by showing in China works by artists from diverse backgrounds. It is our mission to have exhibitions that are informative, exciting, interactive and most of all thoughtful, encouraging peaceful co-existence and long-lasting relationships between peoples.
____________________
For additional information please contact Miguel Angel Benavides at miguel@sackler.org
Arthur M. Sackler Museum of Art and Archaeology at Peking University
No.5 Yiheyuan Road, Haidian District, Beijing, P.R.China 100871
PRESS LINKS
studio international – Review and interviews by Lilly Wei
The Art Newspaper – Exhibition Review
China Daily – Special exhibition honors museum's anniversary
Art China – Exhibition Review
Collection Sina – Exhibition Review
US China Press – Arthur M. Sackler Museum of Art and Archaeology at Peking University 25th anniversary
Art Circle – Exhibition Review
Xinhua News – Exhibition Review
China Arts – Exhibition Review
Xinhua News – Exhibtion Review
Beijing Youth Daily – Exhibition Review
Artron – Exhibition Review
Literary Circle – Exhibition Review
Wen Bo Circle Heritage Museum Information – Exhibition Review
Timeout Beijing – Critics' pick
China International Broadcasting Station – Exhibition News
China Asia Pacific Economic Cooperation Center Global Network Television Media Group – 25th Anniversary and Exhibition News
Peking University – Exhibition Tour
Sina News – Exhibition News
East Day News – 25th Anniversary and Exhibition News
Arthur M. Sackler Museum News – Exhibition News
Additional news – For additional press coverage please search for "北京大学赛克勒考古与艺术博物馆迎来25周年馆庆" or 'Intersection: International Art and Culture"