MARYAM NAJD: BOTANIC
---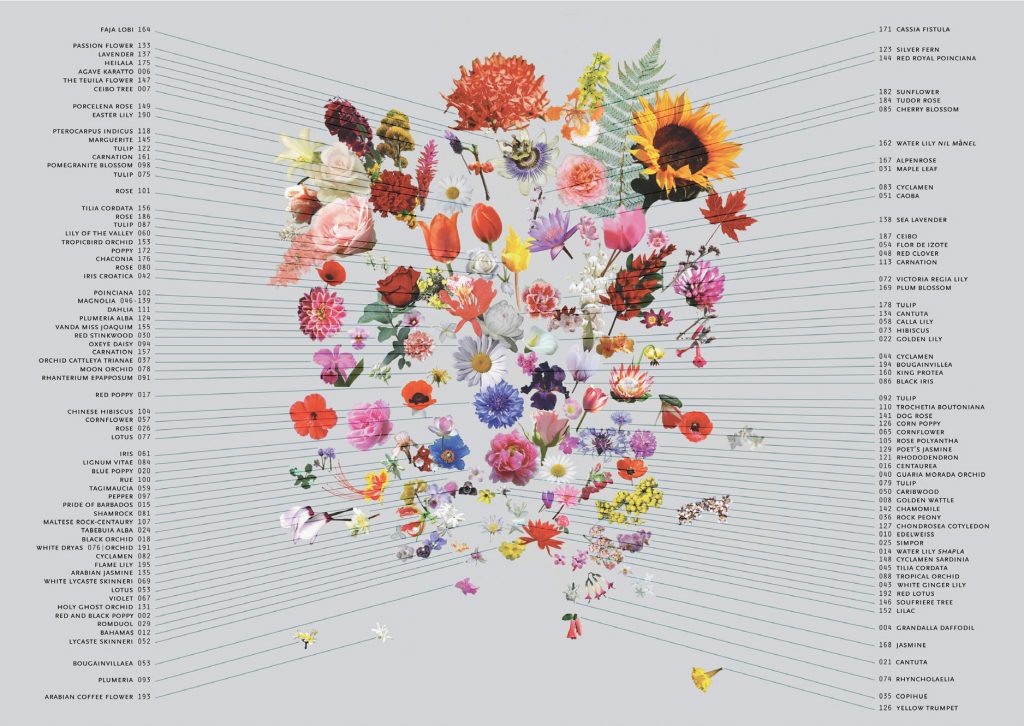 BOTANIC: National Amalgamation Project
May 29 to August 29, 2019


We are pleased to announce that Maryam Najd has been selected as the 2019 International Artist for the Dame Jillian Sackler International Artists Exhibition Program at the Arthur M Sackler Museum of Art and Archaeology at Peking University, Beijing, China.
Botanic, an exhibition of world flowers, representing countries around the globe, will open on 29 May 2019. With the current focus on refugees and caravans of people wanting a better life for themselves and their families, it is essential to recognise the unique contributions that each country has made to the world. Together, we are a quilt of colour, song, spirit and folklore. By highlighting the positives, we will see how the individual flowers can become a great garden representing our Earth, our humanity.
Najd writes: "As an immigrant who left home at an early age, I aspired to find the place of my dreams. I dream of a land where skin colour, nationality and social status have no significance. I dream about a place where moral principles such as diligence, respectability, integrity and compassion are considered normal in relation to race. Although I have not found a place where that dream has become reality, I have not stop fantasising about it, expressing my dream in the form of artistic projects.
"BOTANIC is a research project on cultural and national amalgamation that uses national flowers. Flowers and their meaning have been the subject of conversation for as long as human­kind has taken the time to behold the beauty in each petal. The symbolism of flowers is endless: they are associated with powers ranging from protection to love, warnings and wealth. However, the flower itself unfolds worlds of a deeper meaning. During my research, I learned that the flower itself is the reproductive systems of the plant, and the mean­ing of flowers generally deals with rebirth. But they can also symbolise many other things, such as hope, love, life, growth, vitality, elegance, devotion, inspiration and unity.
"For me, the most important symbolic meaning – and the one that motivated me to do this project – is unity. I would like to generate unification between the countries of the world by gathering their national flowers, illustrating an amalgamation between nationalities with no emphasis on borders or races.
"As an artist, I would like to realise my dream, which proposes a celestial world for humankind instead of the harsh reality. This project sends a message of an "imaginary world" that could very well become a reality if we believe in love for humanity."
Najd's exhibition will comprise a large painting titled Grand Bouquet (after Jan Brueghel the Elder) along with 128 smaller paintings of individual flowers, each selected by a country to represent the nation. It will be installed in the main and adjacent galleries of the museum.

About the artist ________________
Maryam Najd was born in Iran in 1965 and educated in Tehran and, later, Antwerp, where she now lives and works. The difference in these two cultures is reflected in her work, in which she has overcome the traditionalist and conflict-laden context of the Middle East in favour of western "freedom", developing a highly individualistic and respectful dialogue between the two worlds. Recent themes include women's freedom and the current refugee and migrant crisis. Najd was a resident at Künstlerhaus Bethanien in Berlin and at the International Studio and Curatorial Program (ISCP) in New York. She has participated in group shows including Fading, at the Museum Van Elsene in Brussels, The Choice of Jan Fabre, at Indian Caps in Antwerp, and (My private) Heroes, at the MARTa Herford museum, in Herford Germany. In 2016, Najd had a solo show, Eight Volumes of Fantasy, at the Groeninge Museum in Bruges.

About the program ______________
The Dame Jillian Sackler International Artists Exhibition Program was established to bring talented international artists to the Sackler Museum at Beida. Artwork for this program must have cultural value in order to create an open dialogue between the work and the viewer. The aim of this program is to create cross-cultural understanding by showing in China works by artists from diverse backgrounds. It is our mission to have exhibitions that are informative, exciting, interactive and, most of all, thoughtful, encouraging peaceful co-existence and long-lasting relationships between peoples.