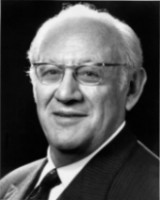 Dr. Arthur M. Sackler
1913 – 1987
Arthur M. Sackler was born in Brooklyn, New York, and received his arts, sciences and humanities education from New York University. Best known as an art collector, he was a physician, scientist and connoisseur, who endowed institutions of learning and culture throughout the world.
To be a doctor was his vocation. After completing his internship and service as house physician at Lincoln Hospital in New York City, he became a resident in psychiatry at Creedmoor State Hospital. There, in the 1940s, he started a research laboratory, and later established his own research laboratory, which resulted in 140 published papers in neuroendocrinology, psychiatry and experimental medicine. He considered his research into the metabolic basis of schizophrenia his most significant contribution to science.
As a generous benefactor to medicine and science, Dr. Sackler contributed to numerous scientific institutions and founded the following: the Sackler School of Medicine established in 1972 at Tel Aviv University; the Sackler Institute of Graduate Biomedical Science at New York University founded in 1980; the Arthur M. Sackler Science Center dedicated in 1985 at Clark University; the Sackler School of Graduate Biomedical Sciences, established 1980, and the Arthur M. Sackler Center for Health Communications, established in 1986, both at Tufts University.
While his fundamental desire was to be a healer, he found inspiration and relaxation in the art world, where his pre-eminence is already legendary. The range of his collections include American, European, Pre-Columbian, Native American, Ancient Near Eastern and Asian art. He collected thousands of objects, many of them masterpieces of museum quality. His interest in art is reflected in his philanthropy; he established galleries at the Metropolitan Museum of Art and Princeton University, a museum at Harvard University, and the Arthur M. Sackler Gallery of Asian Art in Washington, DC. True to his oft-stated determination to create bridges between peoples, he offered to build a teaching museum in China, which his widow, Jillian, made possible after his death, and in 1993 opened the Arthur M. Sackler Museum of Art and Archaeology at Peking University in Beijing.
He overcame a difficult start in life to achieve the American Dream. His parents lost their money in the Depression and he started working at age 13 to support them and his two younger brothers, and put himself and his siblings through school and medical school. By 1940 he was managing director of Schering Corp., subsequently bought the McAdams Co., where he initiated fact-based medical advertising, then purchased the pharmaceutical company Purdue Frederick, and started all the other family businesses. He was a pioneer in the communication of medical news, serving as editor of the Journal of Clinical and Experimental Psychobiology from 1950 to 1962, and in 1960 founding Medical Tribune, the first medical newspaper sent directly to doctors, which reached over one million readers in 20 countries.
Dr. Sackler saw the relationship between the arts and sciences and the humanities as inextricably linked. In a speech given at the State University of New York at Stony Brook in 1986, entitled "Some reflections on the arts, sciences and humanities," he observed: "Communication is, for me, the primum movens of all culture. In the arts… I find the emotional component most moving. In science, it is the intellectual content. Both are deeply interlinked in the humanities." His widow, family and foundations continue the mission to aid the arts, sciences and humanities begun by Dr. Arthur M. Sackler.
---
---
DISCLAIMER – STATEMENT BY JILLIAN SACKLER
February 16, 2018
Much of what's been written in recent months about my late husband, Dr. Arthur M. Sackler, is utterly false. Arthur died nearly a decade before Purdue Pharma – owned by the families of Mortimer and Raymond Sackler (his brothers) — developed and marketed OxyContin. At the time of his death in 1987, Arthur was lauded for his contributions to medical research, medical communications and museums. He was a renowned art collector and connoisseur, and because of this, we have the Arthur M. Sacker Gallery of Chinese Stone Sculpture at The Met, the Arthur M. Sackler Gallery at the Smithsonian, the Arthur M. Sackler Museum at Harvard, the Jillian and Arthur M. Sackler Wing of Galleries at the Royal Academy and the Arthur M. Sackler Museum of Art and Archaeology and the Jillian Sackler Sculpture Garden at Peking University. None of the charitable donations made by Arthur prior to his death, nor that I made on his behalf after his death, were funded by the production, distribution or sale of OxyContin or other revenue from Purdue Pharma. Period.
Further, as a physician and medical scientist, Arthur was moved by a curiosity and desire to improve lives with new therapies. He made a substantial part of his fortune over 50 years in medical research, medical advertising and trade publications. His philanthropy in medicine extended to the Arthur M. Sackler Center for Health Communications at Tufts University and the Arthur M. Sackler Sciences Center at Clark University.
All these gifts, made in the 1970s and 80s, were made independently of his brothers and their families. Thus, for anyone to assert that institutions received "tainted" gifts from Arthur is ludicrous.
The media is accusing Arthur of pioneering deceptive marketing techniques. This is another lie. He had complete integrity.
Passing judgment on Arthur's life's work through the lens of the opioid crisis some 30 years after his death is a gross injustice. It denies the many important contributions he made working to improve world health and to build cultural bridges between peoples.
---
---
Wikipedia – February 24, 2022
As of February 2022, the Wikipedia pages for Purdue Pharma and Arthur, Mortimer and Raymond Sackler are inaccurate. Mortimer's page states "At the time of Arthur Sackler's death in 1987 Purdue Pharma was a small drug company," when in fact it did not exist in 1987. Purdue Pharma's Wikipedia page inaccurately states "Purdue Pharma LP, formerly the Purdue Frederick Company" "founded in 1893" "in 1952" "was sold to two" "brothers Mortimer and Raymond Sackler." Purdue Pharma did not simply evolve from Purdue Frederick, it was founded in 1991 by Mortimer and Raymond. The two brothers did not buy Purdue Frederick, nor did all three brothers buy it. Arthur purchased it. In 1951, not 1952. His brothers did not contribute, they depended on Arthur who employed them at his agency and laboratory, then gave Mortimer and Raymond majority shares in Purdue Frederick. Arthur did not take profits or participate in the "Purdue" network. The following misinformation is on the Purdue Pharma page: "Controversy: Under a marketing strategy that Arthur Sackler had pioneered decades earlier, the company aggressively pressed doctors to prescribe the drug, wooing them with free trips to pain-management seminars and paid-speaking engagements," Arthur Sackler did not pioneer or advocate aggressive medical marketing, it is the OxySacklers who have been accused of aggressively marketing OxyContin. Arthur had the highest ethical standards and pioneered "accurate" medical marketing.
Arthur's Wikipedia page highlights unpleasant topics, e.g. "Purdue Pharma controversy," "criticism," "philanthropy backlash," "tainted donors," organizations that "will not accept further donations from the Sackler family," "the family's philanthropy has been characterized as 'reputation laundering' from profits from their selling of opiates." None of this applies to him. The Smithsonian, Harvard, The Met and other institutions have retained Arthur's name. It is the OxySacklers whose names are being removed from institutions, amidst philanthropy backlash, criticism and controversy, but such topics are not mentioned on the Mortimer and Raymond Wikipedia pages.
Who is behind the concocted campaign to falsely blame Sackler scandals on Arthur?
There is an urgent need for unbiased journalism and a gap in the market for a trustworthy "free encyclopedia."
---
---
DISINFORMATION CAMPAIGN AGAINST DR. ARTHUR M. SACKLER
By JILLIAN SACKLER
March 15, 2022
Arthur M. Sackler: Biography and Family History by Miguel Angel Benavides Lopez, is available on Amazon.com. Based on Arthur's own writings and original documents, it exposes betrayals by family, friends and institutions and demonstrates that he has been cruelly misrepresented for decades. Readers will discover "The Sackler Family" is not and never was a monolith.
Arthur was a humanitarian whose life was devoted to advancing healthcare, education and culture. He was diligent, serious, scholarly and ethical. Media coverage connecting him with the origin of the OxyContin scandal is deliberate disinformation. Condemnation has focused on him, not the OxySacklers who developed and marketed OxyContin. Arthur had no involvement with OxyContin or Purdue Pharma and he and his branch of the family did not profit from opioids in any way. His younger brothers Mortimer and Raymond founded Purdue Pharma in 1991 and it is owned by their heirs. OxyContin was first marketed in 1996. Arthur died nearly 10 years prior, in 1987.
(Are the OxySacklers responsible for the opioid crisis? I know nothing about the matter except that Arthur was not.)
With the increase of drug overdose deaths in the early 2000s, the New York Times branded OxyContin the most dangerous opioid, made by "Sackler company" Purdue Pharma. Arthur was depicted as playing the leading role with Mortimer and Raymond hardly mentioned or termed "Arthur's brothers." Most of these reports were by Barry Meier. Meier's vilification was published in Pain Killer in 2003, republished 2018, the title indicating OxyContin but the text concentrating on blaming Arthur as evil mastermind. Arthur is falsely portrayed as so rich, ruthless, greedy and powerful that he controlled not only his family but the whole pharmaceutical industry. His expertise in the specialized fields of Science—funding Nobel-Prize-nominated medical research with no thought of monetary return—and Art—creating museum-quality collections from which he did not profit as he never sold a single piece—is denigrated. Meier's sensational fiction is backwards: Arthur was not ruthless but rigorous, not greedy but generous, not rolling in money but always short of funds, as he helped family and friends, funded his research laboratory, collected art and donated to cultural institutions.
Meier's histrionic hyperbole concocts a pantomime villain that never was, to illustrate:
"Arthur controlled everything in his realm, even his brothers"; "the powerful lord of his realm"; he "didn't hesitate to make careers or crush them, inspiring not only loyalty among his employees and business associates, but terror"; "he was a man who lived by only one guiding star and played by only one set of rules—his own"; "he helped pioneer some of the most controversial and troubling practices of the modern day pharmaceutical industry"; "he was the Godfather of the modern day drug industry" and "helped create a new chapter in American life—the emergence of the pill as a quick fix"; "his techniques were sometimes blatantly deceptive"; used his newspaper as "a mother goose to protect the golden eggs of his drug industry advertisers"; "various firms controlled by Arthur Sackler created and distributed 'articles' to newspapers that were really marketing plugs for the drug companies that paid for them"; he "controlled a chain of scientific journals that carried favorable articles about new drugs—drugs produced by his advertising clients." "Already a rich man, he made an emperor's fortune from the feel-good tranquilizers of the 1960s, Librium and Valium"; "By the early 1950s he was already wealthy, he was making so much money in business…he could subsidize research"; "he cloaked his pursuit of profit and power behind the veil of science and research"; "the promotional gimmicks used by his advertising firm often smacked less of high-minded science than of the handicraft of a huckster"; "bonus payments paid on the volume of pills sold"; "millions of dollars in interest-free loans as advances against future advertising work, money he quickly invested making yet another fortune on the stock market," "the amount of wealth was massive," "massive fortune," "vast empire."
In reality there was no emperor's fortune, no golden goose, and not until the 1980s did he "stretch" to invest in the bull Stock Market. As for "vast empire," his estate received less than $25 million for his nominal one-third share of Purdue Frederick, and without his leadership the Medical Tribune Group lost its value. What power did he have, with no huge wealth, no political clout, no media pals, no control over friends and family, no control over the pharmaceutical industry? He did not control or profit from scientific journals. Far from "blatantly deceptive" techniques, Arthur was honored for bringing accuracy to medical advertising. Meier equates "benzos" with opioids, but there was no scandal with any McAdams promotion including Valium, a safe drug still in use today and no comparison to OxyContin, which is said to be stronger than morphine. Hoffman La Roche formulated and manufactured Valium and controlled the advertising information. McAdams received an agreed fee for promotion and Arthur's compensation was not tied to sales, there was no incentive to sell, sell, sell. Pharmaceutical companies made their own budget and Arthur never advocated excessive spending or lavishing gifts on doctors. He was not in favor of advertising drugs to laymen on television, which was allowed only after he died. He did not cause drug prices to rise or create any other problems in the pharmaceutical industry, then or now.
Untrue rumors emanated from the art world. When he gave 1,000 masterpieces to the Smithsonian, jealous suitors whispered that after storing his collection at the Met he broke his promise to donate it (the agreement was to give the museum access to Asian art when they had little, he did not break promises, The Met did), insisted on unreasonable clauses in contracts (if so why sign?), made gifts to museums in a (futile) quest to join "society"; supposedly he was "difficult" and "slippery"; took unwarranted tax deductions; and his philanthropy was to cover bad business practices. However, there was no shady dealing or tax avoidance and indeed, no tax deduction was taken for the major gift to the Smithsonian as Arthur felt the nation should not have to give something back in return. He threatened to sue and prove actual malice and received a letter of apology from The Met. But these discredited charges are regurgitated by Meier, despicably using McCarthy tactics to smear with innuendo instead of fact.
Meier revives disparaging comments by competitors and ex-employees. No background is given for virulent critic John Kallir, who worked for McAdams for 10 years but left in 1959 to start a less successful rival agency and was sued by Arthur for trying to steal clients. Since the 1960s Kallir has made wild statements attributing "most of the questionable practices of the pharmaceutical industry to Arthur Sackler." Meier repeats nonsense from a scurrilous diatribe in a 1962 Saturday Review article by John Lear. This ad-hominem attack was meant to seal Arthur's fate at the time he was under investigation by the Senate Sub-Committee on Anti-Trust and Monopoly (1957-63). Lear falsely alleged "Dr. Arthur Sackler is head of the largest prescription drug advertising agency in the United States," that he "peddled bad drugs," "kited the prices," sought to violate the doctor/patient relationship by advertising drugs direct to laymen, and clandestinely controlled the pharmaceutical industry. Among numerous inaccuracies, Lear claimed that Pfizer drug Sigmamycin "was advertised with what appeared to be reproductions of the professional cards of eight physicians who seemed to be endorsing the medicine. None of those physicians existed, Pfizer president John McKeen later told me the ad had been written at McAdams, the ad agency headed by Dr. Arthur Sackler, before Pfizer withdrew its account from McAdams." If McKeen did say that, it was untrue. The Congressional Record makes clear that McAdams had nothing to do with Sigmamycin, and that McAdams resigned the Pfizer account.
Lear's outrageous hit-piece was a blueprint for the Congressional Sub-Committee. Chairman Kefauver's goal was to send to gaol a scapegoat for the pharmaceutical industry, preferably Arthur, and the questioning was hostile. But the Lear charges didn't survive scrutiny. There was no evidence of wrongdoing, no perjury. Even Meier had to admit "Sackler walked away unscathed from the Senate hearing, his reputation unblemished." For facts, please see the Congressional Record.
Lear's calumnies were not denounced but perpetuated. In Pain Killer Meier upholds Lear while impugning Arthur: "Strictly speaking, his own testimony was accurate" but he "created an illusion and then disappeared." No, it is Meier who creates a delusion with every reference to Arthur, e.g.: "Sackler's firm produced a brochure for Pfizer Laboratories promoting an antibiotic called Sigmamycin that depicted the supposed business cards of several physicians" as "testimonials to the drug's effectiveness" but those physicians "didn't exist." McAdams did not work on Sigmamycin, which Meier must have known from the Congressional Record.
As always, Arthur bluntly spoke truth to power. Informants had given the Sub-Committee erroneous statistics, one being that Arthur and Bill Frohlich controlled 50% of drug marketing. (Arthur set up Frohlich, and others, in business but did not participate in management and never received profits). On January 30, 1962 Arthur testified that, based on the Committee's figure of $750 million a year spent on the promotion of drugs "…the gross billing of McAdams accounts for roughly 1.5% of all drug promotional expenditures" (approx. $1.7M); "The cost of the advertising material we handle for our clients is less than 5 cents of each prescription dollar for the drugs"; "…we operate in an area of incredibly intense competition, competing for ethical pharmaceutical advertising accounts against 20 rival agencies"; "I do not have any figures, but, to the best of my knowledge, McAdams and the other agency handle only a portion, and a much smaller portion than that, of the promotional material prepared for a total of 20 companies out of the 141 major pharmaceutical companies in this country."
The Congressional hearing transcript reveals that McAdams' gross income represented approx. 0.2% of all expenditures for ethical drug promotion in the industry and approx. 1.5% of all drug promotional expenditures in the country. Yet Meier writes "Sackler headed the largest advertising agency devoted to the marketing of pharmaceuticals," "the most visible symbol of Sackler's dominance of the promotional end of the drug industry," and "already by the early 1960s, concerns about the proliferation of misleading or deceptive drug advertisements were pervasive" (it may be true for the late 1930s when Arthur joined McAdams but he brought reform). Meier's brazen, damaging lies (dominance over the pharmaceutical industry/pioneer of deceptive medical advertising and other malpractice) remain at the core of the fake narrative concerning Arthur and have been repeated or embellished by every author who picked up the subject.
Meier follower Patrick Radden Keefe wrote a widely-publicized article for the October 2017 New Yorker explaining that the opioid crisis could be traced to Arthur. In a recent book expanding on his theme Arthur pops up from beginning to end as if he is still puppet-master of the drug industry. Keefe (who says he did 200 interviews, yet ignored anyone who diverged from his mindset) replicates Meier's (non-existent) diabolical villain: rich, powerful, corrupt, surrounded by ill-gotten art, his philanthropy covering his tracks. Keefe states Kefauver felt Arthur "possessed an 'integrated' empire of drug discovery and manufacture, drug marketing and advertising, and medical publications explicitly for promoting drug sales" without explaining Arthur was exculpated. Meier is a hero to Keefe and the New York Times gives Keefe rave reviews—meaningless circular praise. Yet this book has won prizes and Keefe is considered such an expert that he testified on "the Sacklers" before Congress. To this day Keefe continues to baldly claim that Arthur pioneered deceptive medical advertising. How can an "investigative journalist" get a story so twisted?
Preposterous misinformation continues to metastasize.  Meier's entirely false assertion that Arthur "helped pioneer some of the most controversial and troubling practices in medicine: the showering of favors on doctors, the lavish spending on consultants and experts ready to back a drugmaker's claims, the funding of supposedly independent commercial interest groups, the creation of publications to serve as industry mouthpieces, and the outright exploitation of scientific research for marketing purposes" is currently on Arthur's Wikipedia page.  As is Keefe's quote that Kefauver "felt that Arthur Sackler possessed an 'integrated' empire of drug discovery and manufacturer, drug marketing and advertising, and medical publications explicitly for promoting drug sales"—the Committee was so briefed, but the accusation found untrue.  Many of the links on Arthur's Wikipedia page connect to Keefe's misbegotten book.  Plus long-disproved drivel and other fabrications, e.g.: "Most of the questionable practices that propelled the pharmaceutical industry into the scourge it is today can be attributed to Arthur Sackler." Nobody should trust Wikipedia, its co-founder Larry Sanger reportedly said in 2021.
You can learn the truth from the new book Arthur M. Sackler: Biography and Family History by Miguel Angel Benavides Lopez, available at www.amazon.com